Bhagwant Mann gave assurance of action
While talking to the media, Arun Sood said that Aam Aadmi Party councilor along with his in-charge Jarnail Singh and co-in-charge Kulwant Singh had met the Chief Minister of Punjab yesterday. During the meeting, while complaining about the Municipal Commissioner and other officers, said that the officers do not listen to them. Since the officers have come to Chandigarh Administration on deputation from Punjab, they should be taught a lesson. Not only this, after meeting the Chief Minister, these councilors have given a statement that Bhagwant Mann has assured them that they will take prompt action in this matter. They will be taught a lesson by meeting with the commissioner and other officers. Along with this, he will be asked to obey the councilors of the Aam Aadmi Party.
Wants to control Chandigarh from Punjab: AAP
Arun Sood said that it has become clear from the statement by the councilors that the Aam Aadmi Party wants to control Chandigarh from Punjab. The Chief Minister of Punjab has no right to interfere in the affairs of Chandigarh Administration. Anandita Mitra and other officers who have come from Punjab to Chandigarh are all civil service level administrative officers. As long as he is on deputation in Chandigarh Administration, his accountability is towards the administrator and administration of Chandigarh, not to the Punjab Government. Who is the Chief Minister of Punjab Bhagwant Mann to act against the officials of Chandigarh Administration?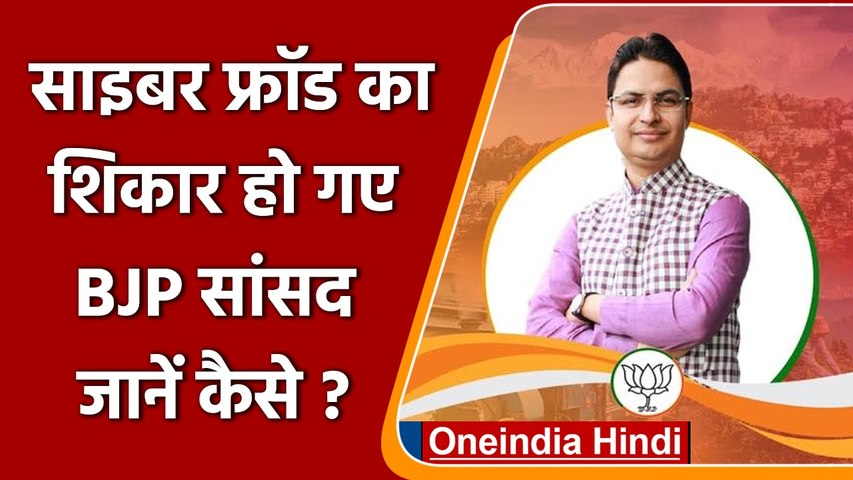 BJP MP Raju bista: Cyber ​​fraud cheated 10 lakhs, the game was played in the affair of photos. oneindia hindi
Arun Sood targeted Bhagwant Mann
Arun Sood said that it is clear from this action of Aam Aadmi Party that Aam Aadmi Party wants direct intervention of Punjab Government in Chandigarh and wants to control Chandigarh from Punjab. It will not be accepted under any circumstances. Apart from this, what Bhagwant Mann has said to take action against these officers is absolutely unconstitutional and irresponsible, with what right can Bhagwant Mann say so. Does he want to run Chandigarh with remote control? As his own government is being run by remote control of Delhi. His intentions will not be allowed to succeed in Chandigarh. Earlier, Aam Aadmi Party's Chandig convener Prem Garg had also tried to threaten the commissioner in his name after the formation of the Aam Aadmi Party government in Punjab by sending a message to the commissioner. Aam Aadmi Party is putting unethical pressure on Chandigarh officials.
Bhagwant should apologize – Arun Sood
Bhagwant Mann should clarify whether he has said something like this and whether the Aam Aadmi's party councilors are saying right or wrong. If he has said so then he should apologize to the people and officials of Chandigarh for saying so by going out of his jurisdiction. It is a question of the pride of Chandigarh and if they have not said so, then they should teach a lesson to their councilors and they should be taught the lesson of making statements responsibly. Arun Sood also said that the Aam Aadmi Party had taken votes from the people by making false promises to the public. Now he is unable to fulfill these false promises and is unable to get the work done in the ward. That's why they want to divide the attention of people by making excuses. Their motive is only to oppose the BJP.
'AAP's aim is to fight BJP'
The Aam Aadmi Party's objective has remained to fight the BJP, while it is also not being successful in this. Councilors of Aam Aadmi Party are fighting amongst themselves. Their mutual factionalism has come to the fore. Giving advice, Arun Sood said that the Aam Aadmi Party should leave cheap politics and do good work for the people. Along with this, cooperate with the Municipal Corporation for development works. Don't run away from your responsibility by making direct allegations. Anyway, the Aam Aadmi Party has not been able to make any specific allegations against the officials. Only she wants to divert the attention of people by making allegations of velocity. The people of Chandigarh city are very intelligent and have understood the reality of common man that they only know how to protest, run away from development works.
Arun Sood also questioned Congress
Arun Sood claimed that not a single development agenda brought by the Aam Aadmi Party has been stopped in the Municipal Corporation House. But the councilors of the Aam Aadmi Party do not want to bring the agenda of development in the house, they only do the politics of accusation and counter-accusation. Arun Sood also asked Congress to clarify its stand on this matter. Congress should tell what is the stand of Congress on this intention of Aam Aadmi Party. Does she support or oppose the interference of the Punjab government in the Chandigarh administration?
'BJP has always had the same stand'
Arun Sood once again clarified that the Bharatiya Janata Party's stand has always been that Chandigarh should remain Chandigarh forever. It should not be mixed with Punjab or Haryana. The people of Chandigarh want to keep Chandigarh as a Union Territory or a separate independent state. During this, along with Arun Sood, all the councilors of the city including Mayor Sarabjit Kaur Dhillon, Senior Deputy Mayor Dilip Sharma, Deputy Mayor Anoop Gupta, State Spokesperson Kailash Chand Jain were also present.