Ahmed Patel's son Faisal is disappointed with the party leadership
Faisal Patel, son of senior Congress leader Ahmed Patel, who was political secretary to Congress President Sonia Gandhi, is disappointed with the party high command. On Tuesday, he has made a tweet, which is a sign of a big setback for the Congress ahead of the Gujarat elections. He has said that he is 'tired of waiting.' He has spoken of keeping his options open before the elections. Ahmed Patel, who passed away in 2020, was for a long time the most important leader in the party after Sonia Gandhi and her son Rahul Gandhi. Apart from the Gandhi family, he was the only person in the party, without whose gesture even a leaf was not allowed to move in the Congress. But, a little over a year has passed since his death and his sons are disillusioned with the party.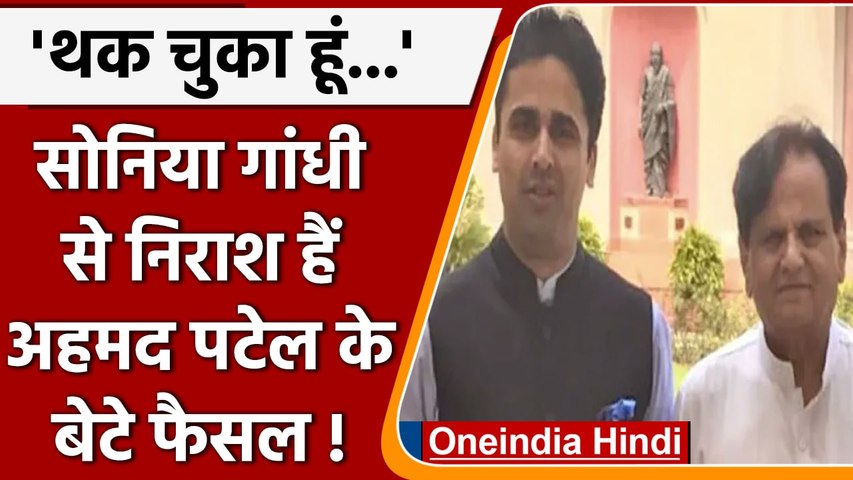 Ahmed Patel's son Faisal Patel is angry with Sonia Gandhi, said this. oneindia hindi
I am keeping my option open – Faisal Patel
Faisal Patel wrote in a tweet on Tuesday, 'I am tired of waiting. No encouragement from high command. I am keeping my option open. This is a big setback for the Congress as the party is already facing internal crisis in Punjab, Jharkhand and Maharashtra. Gujarat goes to polls later this year and Ahmed Patel has been a prominent Muslim face of the Congress in the state, known across the country for behind-the-scenes politics. After this tweet of the verdict, a picture of him with Aam Aadmi Party's convenor and Delhi Chief Minister Arvind Kejriwal is going viral, due to which speculations are being made that he may go with his party and possibly Bharuch seat of Gujarat. Electoral politics can start from
were about to start the election yatra in Bharuch and Narmada
However, Faesal had also recently said that he is not sure of formally joining the Congress. However, in his tweet on March 27 last, he had also told the plan to travel to 7 assembly constituencies of Bharuch and Narmada districts of Gujarat from April 1. In this tweet, he had told his goal to win these seven seats. But, in the tweet of March 30, he had said to postpone the visit of Bharuch assembly constituency for a few days due to Ramzan. (1st and 3rd photo courtesy: @mfaisalpatel)
Who is Faisal Patel?
Faisal Patel is the son of late senior Congress leader Ahmed Patel. According to the information available on 41-year-old Faisal's Twitter, he has studied business from Harvard after studying from Doon School. He has also been associated with social work. He describes himself as a business entrepreneur and talks about his interest in working for change in healthcare, education and technology.
Name has been associated with Amisha Patel
It was last December. Faisal Patel wrote something on social media for Bollywood actress Ameesha Patel that created a sensation. He publicly proposed Ameesha Patel for marriage. In response to Amisha Patel's wishes on her birthday, she wrote, 'Thank you Amisha Patel. I am formally proposing publicly. Will you marry me?' However, after some time he deleted this tweet, but by then it had become viral.