BJP engaged in preparing political strategy
With this discussion intensifying in the political corridors of Bihar, the BJP has started preparing a political strategy. If sources are to be believed, out of 19 Congress MLAs in Bihar, 14 MLAs are in touch with BJP and they may join BJP soon. Although this discussion took place earlier also BJP MLA Haribhushan Thakur has publicly said that Congress MLAs are in contact with BJP, but Congress Legislature Party leader Ajit Sharma termed it as a rumour, calling it a rhetoric. He had said that BJP leaders are making such statements to stay in the headlines. All Congress MLAs are united. No Congress MLA is going to leave the party and join any other party.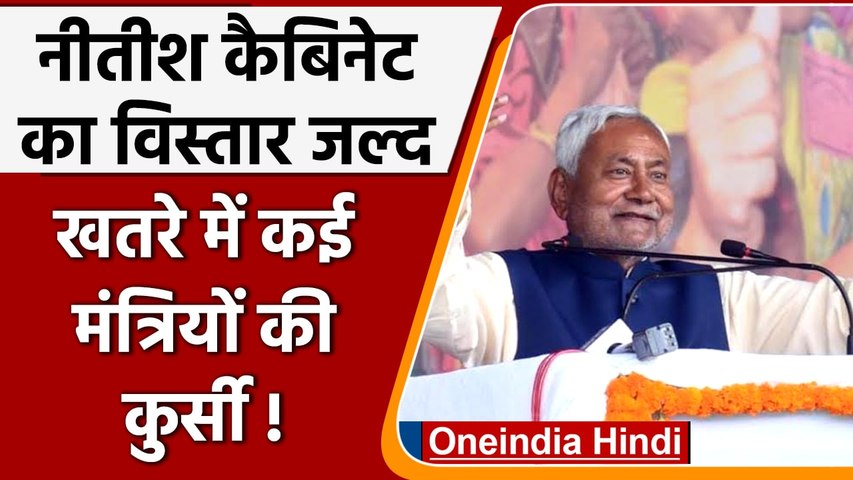 Nitish Kumar Cabinet: Expansion in the cabinet of Bihar Chief Minister Nitish Kumar soon. oneindia hindi
All MLAs under the supervision of the party high command
If Congress sources are to be believed, the party high command has also received a signal to change the party of the MLAs. Therefore, the High Command is keeping all the MLAs under its watch. Let us tell you that after three MLAs of VIP joined BJP, the party has 77 MLAs in Bihar. If BJP is successful in bringing 14 Congress MLAs with them, then BJP will have more than 90 MLAs in Bihar. After this, the opposition dream of capturing power itself by bringing the ruling party into minority will remain unfulfilled.
Political equations changing in Bihar
After changing the political equation in Bihar, now there is hope of getting power in the opposition also. RJD has now started preparing a strategy, that in any way, it can stake claim to form the government by bringing the ruling party to a minority. This is the reason why NDA alliance in Bihar is not willing to take any kind of risk. Playing a master stroke, the BJP has got VIP MLAs Raju Singh, Swarna Singh and Mishri Lal Yadav included in the party so that the chair is not in danger. Now NDA has the support of 127 MLAs, even after this there is a fear of going to the chair.
maths of assembly seats in bihar
There are a total of 243 assembly seats in Bihar, out of which 242 seats have members but one seat is still vacant. Because the Boncha assembly seat fell vacant after the death of Musafir Paswan, an MLA of the Vikassheel Insaan Party. Now by-elections are going to be held on this seat. To capture power in Bihar, 122 seats are required, of which the NDA alliance has the support of 127 MLAs. The opposition has 115 MLAs, to get power, the support of only 7 MLAs is needed.
RJD is also preparing strategy
If sources are to be believed, the opposition is in constant contact with five MLAs of Owausi's party, one MLA from Hindustan Awam Morcha (Jitan Ram Manjhi) and one independent MLA for support. Along with this, after getting resignations from some MLAs of the ruling party, it has started preparing a strategy to get the membership canceled and bring it to a minority. In Bihar, if there is a slight change in the numbers, then there can be a change of power. Even after the merger of the three VIP MLAs, the NDA chair seems to be in danger.
BJP in touch with Congress MLAs
In view of the changed political equation in Bihar, political experts believe that the assembly may be dissolved. Because when Nitish Kumar was attacked by BJP leaders on the Lakhisarai and Begusarai case, Mukesh Sahni stood with him step by step. Now in the current situation, Nitish Kumar is also angry with BJP. In such a situation, it is possible that Nitish Kumar should support the opposition from outside. If this happens, then some MLAs may resign, due to which the assembly will be dissolved as soon as the ruling party comes in minority. With this, if the opposition gets the support of seven MLAs, then a grand coalition government will be formed in Bihar. But the Bharatiya Janata Party has started contacting the Congress MLAs by preparing a political strategy to break it.