Biplab is credited for bringing BJP to power in Tripura
The BJP had ousted the 25-year-old Manik Sarkar here in 2018. The credit for this victory has been given to Biplav Deb. Bipalb is originally from Udaipur in the ancient city of Tripura. Biplav's early schooling took place in Tripura. After this, after completing his graduation from Tripura University, he came to Delhi for further studies. Biplab Deb has been an RSS worker.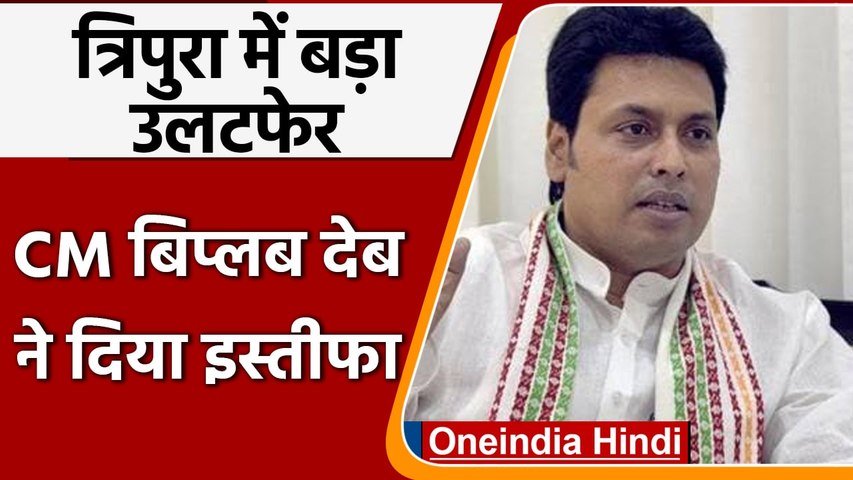 Biplab Deb Resigns: Tripura CM Resigns | Biplab Deb News | Tripura News | oneindia hindi
filmi hai their love story
He also worked as a professional gym instructor in Delhi. Bipalb Kumar used to visit the gym regularly to maintain his fitness and it was here that he met Neeti Deb. Neeti belongs to a Punjabi family. It was love at first sight and after a few days of conversation they got married. Niti is an officer in a branch of State Bank of India on Sansad Marg in Delhi. He is the father of a son and a daughter.
Captured power to BJP in 2 years
Prime Minister Narendra Modi had a special interest in the North-East, so after becoming the Prime Minister in the year 2014, Modi sent Biplab Dev from Delhi to Tripura, so that the BJP could establish its foothold there. created. As soon as he got the responsibility of Tripura State President, he transformed the state for BJP in just two years. He is the MLA from Banmali seat of West Tripura.
Modi also became a fan of Biplab
In the Biplab campaigning, he praised PM Modi and called him his political guru. Big leaders of BJP reached Tripura to campaign for Biplab. Assembly elections are due in the state after eight months. Actually BJP has decided to change the leadership in Tripura. It has been considered a big decision in the state before 2023. Biplab Deb had met Union Minister Amit Shah only yesterday. In the meeting he was asked to step down.