India
oi-Rizwan M
New Delhi, May 18:
The Supreme Court on Wednesday ordered the release of AG Perarivalan, convicted in the assassination of former Prime Minister Rajiv Gandhi. The Congress has objected to this decision of the Supreme Court and has surrounded the Narendra Modi government at the Center for this. Congress has said that if the culprit of PM's assassination is released like this, then it is not a good sign for the integrity of the country.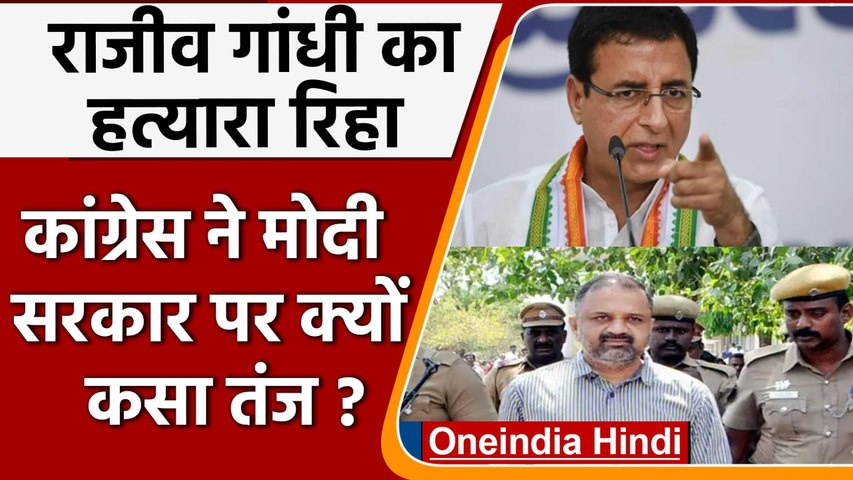 Rajiv Gandhi Assassination case: AG Perarivalan released, Congress took a jibe at the government. oneindia hindi
Congress spokesperson Randeep Surjewala on Supreme Court's order to release AG Perarivalan said, "We are deeply saddened by the Supreme Court's decision. If the culprits of terrorism and PM's assassination are being released like this then who will maintain the integrity of this country? Today is a sad day for the country, Rajiv Gandhi was not only from the Congress party, he was the Prime Minister of the country.
Surjewala took a dig at the Center and said that PM Modi and his government need to answer today what kind of dual attitude they have on terrorism? Does PM Modi's silence mean his involvement in the release of the former PM's killer? Rajiv Gandhi's killer has been released, is this Narendra Modi's nationalism?
Under which rule Perarivalan got release
The Supreme Court has decided under Article 142 the release of convict AG Perarivalan, who is serving a sentence in the assassination case of former Prime Minister Rajiv Gandhi. The court gave this order due to the pending mercy petition between the Governor and the President in this case. Perarivalan was arrested in June 1991 after the assassination of former Prime Minister Rajiv Gandhi in Sriperumbudur, Tamil Nadu in May 1991. Perarivalan has been in jail for 31 years.
Story first published: Wednesday, May 18, 2022, 17:46 [IST]