Former Chief Minister HD Kumaraswamy claims – JDS is king, figure of 30 in exit poll is also a dream!
- Posted by One India, last updated on
Former Chief Minister HD Kumaraswamy is seeing JDS in the role of King in Karnataka. It is very interesting to know on what basis Kumaswamy said this on the day of voting, two days before the election results. Learn
Bangalore
oi-Jyoti Bhaskar
After the end of voting on 224 assembly seats in Karnataka, the phase of speculation on the election results has started in the exit polls. Congress has emerged as the single largest party in most of the polls. However, former Chief Minister Kumaraswamy has a different opinion from these polls.
Former Karnataka Chief Minister and Janata Dal (Secular) leader HD Kumaraswamy voted in Ramanagara on Wednesday and said that the JD(S) party will be the 'king' of the Karnataka assembly elections.
After casting his vote, JDS leader Kumaraswamy said, "We are requesting people to bless JDS candidates to get proper development. Our party is going to be king."
Let us tell you that the voting on 224 assembly seats for the Karnataka Assembly Elections 2023 started at 7 in the morning amidst tight security and continued till 6 in the evening. The public sealed the fate of 2,615 candidates in the EVMs in the elections.
Former Chief Minister of Karnataka Kumaraswamy along with his family cast his vote for the Karnataka Assembly Elections 2023 at a polling booth in Ramanagara. Union Finance Minister Nirmala Sitharaman also reached to vote.
Apart from these, several prominent leaders including Karnataka Chief Minister Basavaraj Bommai, Minister of State K Sudhakar and Congress State President DK Shivakumar were among the early voters.
Significantly, in the assembly elections held on Wednesday, the Congress is expected to get a clear lead in Karnataka. In this, Congress is expected to get absolute majority in four exit polls. Some polls have also predicted a hung assembly.
Some exit polls also say that the BJP is leading in the sweepstakes to form the government. According to the poll of polls, the Congress is ahead by saving everyone.
Exit polls released after polling ended in Karnataka predicted that the Janata Dal-Secular JD(S) would not even touch the 37 seats it won in the 2018 elections, but would remain a strong regional player in the state.
If Karnataka returns a hung assembly, the JD-S may emerge as the kingmaker. In such a situation, only the wait for May 13 is left. The Election Commission will zero the official figures on May 13.
Recommended Video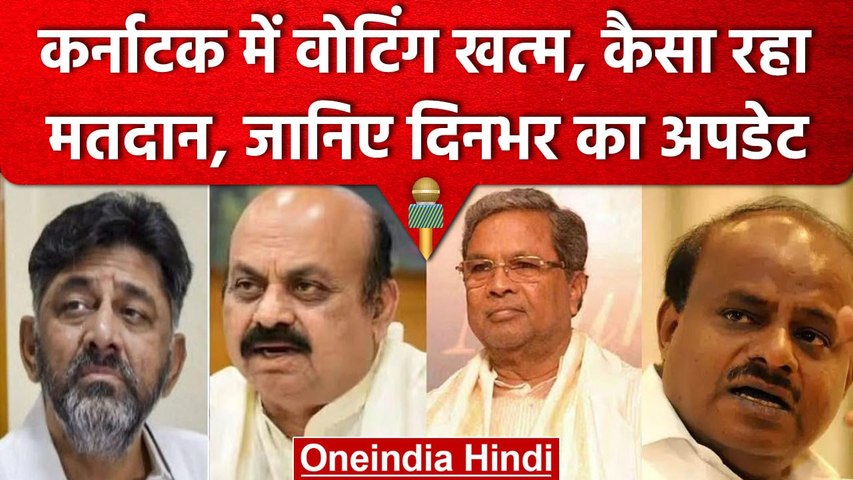 Karnataka Election 2023: Voting ends in Karnataka, claims of victory and defeat begin. Oneindia Hindi