India
oi – Sushil Kumar
Sonprayag, May 28: There is a huge crowd of devotees to go to Kedarnath. A large number of devotees are reaching Kedarnath to have darshan. In view of the huge crowd, devotees are being stopped in Sonprayag itself. Police and ITBP have stopped the devotees at Kedarnath Dham in Sonprayag from 10 am on Saturday in view of the huge crowd of devotees.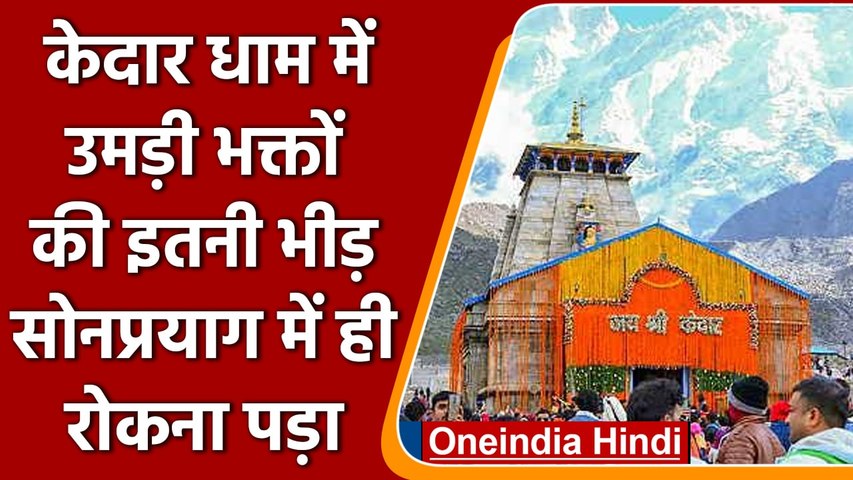 The darshan of Kedarnath had to be stopped due to the crowd gathered in Sonprayag. oneindia hindi
Rudraprayag Circle Officer Pramod Kumar said that the passengers will now be sent to Kedarnath Dham from 4 am on Sunday, May 29. The police have stopped the devotees at Sonprayag so that there is no problem due to excessive crowd at Kedarnath Dham. Devotees will be sent from Sonprayag if the crowd decreases further.
The death toll is not stopping
Let us tell you that in the Chardham Yatra, a record is being made for the arrival of devotees on one side. At the same time, the death toll is also not taking its name to stop. 83 pilgrims have died within 24 days of the start of Chardham Yatra. On Thursday, 7 pilgrims died for the second consecutive day. So far more than 20 lakh pilgrims have registered for the yatra while more than 10 lakh pilgrims have visited the four dhams.
41 killed in Kedarnath
As soon as the Yatra, which was closed for 2 years in Kovid, opened, this time there is a gathering in the Yatra. Apart from the four dhams Kedarnath, Badrinath, Gangotri and Yamunotri, travelers are also reaching Hemkund Sahib for darshan. In Kedarnath and Yamunotri Dham, the number of deaths due to heart attack is being told more. So far 41 passengers have died in Kedarnath, 25 in Yamunotri, 13 in Badrinath, 4 in Gangotri. Director General of Health Dr. Shailja Bhatt gave information.
55 horse and mules died in 16 days
According to the data, in just 16 days since the beginning of Char Dham Yatra, 55 horses and mules have died due to severe stomach ache, while 4 horses and mules have died due to falling and one has died due to stone pelting. . According to government figures, so far 1.25 thousand pilgrims have traveled by horse and mules, while other pilgrims have reached the Dham by helicopter and on foot.