India
oi mukesh pandey
New Delhi, 8 May. Independent MP Navneet Rana has again challenged Maharashtra Chief Minister Uddhav Thackeray after being discharged from the hospital. He stands by his statement regarding Hanuman Chalisa Path. The MP said that if reciting Hanuman Chalisa is a crime, then he is ready to spend up to 14 years in jail for this.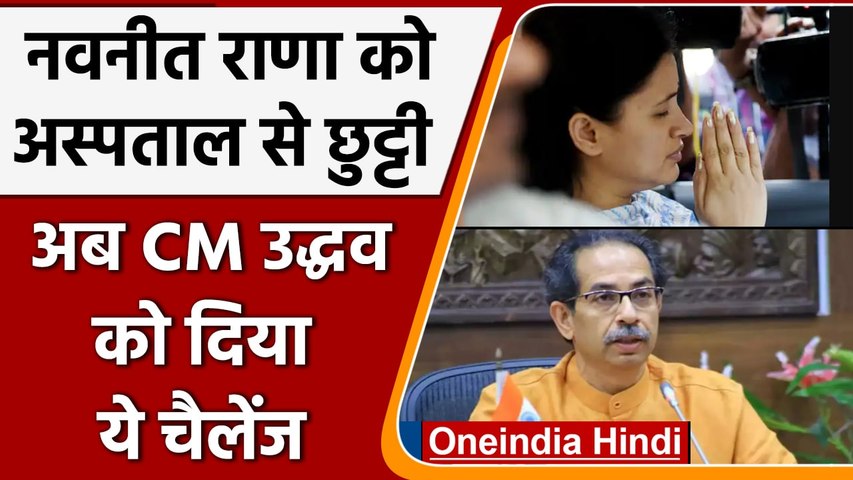 Mumbai: Navneet Rana discharged from hospital, CM Uddhav was given this challenge. oneindia hindi
The Amravati MP was admitted to Lilavati Hospital for treatment of spondylosis. He was discharged from the hospital on Sunday after recovering. After coming out of the hospital, MP Navneet Rana accused the Maharashtra CM of misusing his power. The independent MP said that CM Uddhav Thackeray was harassed and tortured in lockup and jail just for using the name of Lord Ram. Rana challenges Thackeray to prove himself by contesting from any district in the state and winning against him. He said that if CM Thackeray has the courage, then he will fight elections from any district of the state, I will show it by fighting against him. Navneet further said that then let's see whom the public chooses.
MP Navneet Rana said 'If reciting Hanuman Chalisa is a crime then I am ready to be in jail not just for 14 days but for 14 years. If they think that they can silence a woman by imprisoning her for 14 days, then it will not happen. Our fight is in the name of God and it is going to continue.
Story first published: Sunday, May 8, 2022, 19:08 [IST]