India
oi-vinay saxena
New Delhi, April 20: Following the communal violence that took place during a procession in Delhi's Jahangirpuri area on the occasion of Hanuman Jayanti, the North Delhi Municipal Corporation on Wednesday bulldozers over illegal constructions from the area. Politics has started after this action in Jahangirpuri. Amidst the rhetoric of the ruling party and the opposition, BJP MP Narasimha Rao tweeted and called JCB 'Jihad Control Board'. He said JCB also refers to a bulldozer. Illegal construction removed by JCB in Jahangipuri area of ​​Delhi was stopped after the order of Supreme Court, but by then JCB had done its work.
On Wednesday, municipal officials with several JCB machines barged into Jahangirpuri areas and demolished illegal occupation of shops and houses. Before the Supreme Court ordered a stay on the operation, the JCB had removed the illegal occupation. The hearing in this matter will also take place on Thursday. Delhi BJP chief Adesh Gupta said accused of communal violence in Jahangirpuri on Saturday were living in an "illegal construction" and demanded that they be demolished. The North Delhi Municipal Corporation had announced an anti-encroachment drive on Tuesday. Heavy police deployment was requested in the area.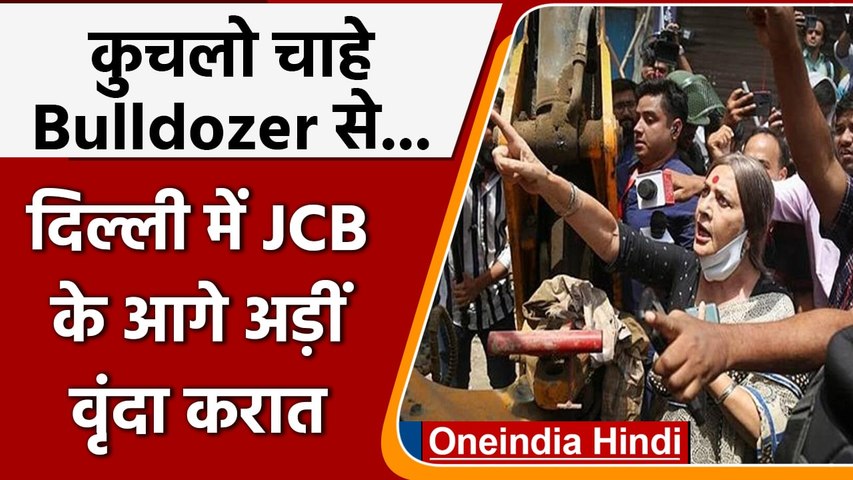 Why did Brinda Karat stand in front of the bulldozer in Jahangirpuri? Why say crush! , oneindia hindi
Let us tell you, CPIM leader Brinda Karat herself reached the spot to stop the action of the bulldozer. He apprised Special Commissioner Deependra Pathak about the order of the Supreme Court. He said that Deependra Pathak has been spoken to, he has assured that no bulldozers will operate in the area now. At the same time, after this the action was also stopped. Earlier, the MCD, while responding to the action despite the order, said that they have not received the copy of the court's order.
AAP MLA Amanatullah Khan said – the atmosphere will get worse
On the other hand, Aam Aadmi Party MLA Amanatullah Khan from Okhla area of ​​Delhi released a video message on Twitter on Wednesday. In the video, Khan said that in the holy month of Ramzan as part of an anti-encroachment drive, people belonging to a particular community in Jahangirpuri area, demolishing their houses to harass them would further worsen the atmosphere in the area.