India
oi-Jyoti Bhaskar
Mumbai, May 4: By sharing a video of Balasaheb Thackeray on the loudspeaker controversy in Maharashtra, Raj Thackeray has once again tried to keep alive the issue of 'Azaan on loudspeakers in mosques'. In the video he shared, Balasaheb Thackeray is talking in Marathi language about the use of loudspeakers at religious places.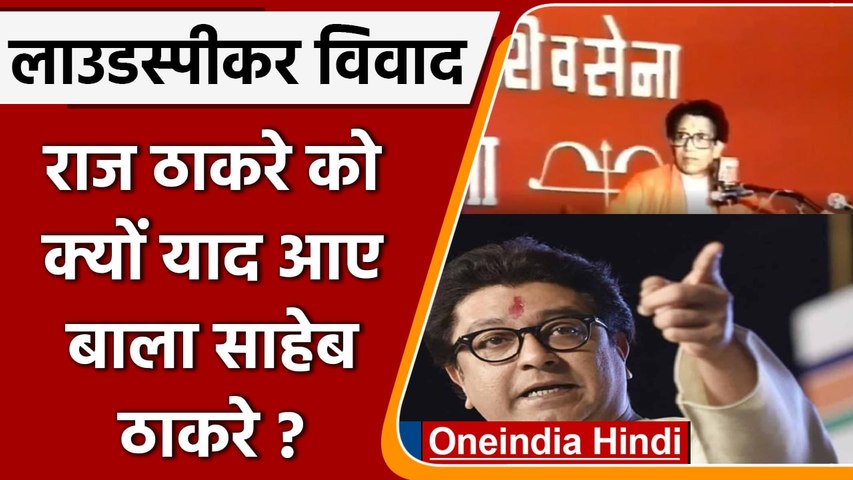 Bal Thackeray Video: Hear what Shiv Sena founder had to say about loudspeakers. oneindia hindi
Thackeray bluntly – religion should not come in the way of development
In the 36-second video regarding loudspeakers at religious places, Bal Thackeray can be heard saying that if his government is formed in Maharashtra, the prayers on the streets will stop. According to the India Today report, Bal Thackeray said in Marathi language, 'The day my government will be formed in Maharashtra, namaz will stop on the streets.' He said religion should not come in the way of any development.
Will give priority to development, will also think on Hindu rituals: Balasaheb
According to the translation of India Today, Bal Thackeray also said in Marathi language over loudspeaker that if any Hindu ritual comes in the way of development, he will also consider it. Loudspeakers will be removed from mosques. Let us tell you that the video of Balasaheb Thackeray shared by Raj Thackeray is from many years ago. The timing of the statement was not mentioned with the video.
— Raj Thackeray (@RajThackeray) May 4, 2022
'Play Hanuman Chalisa during Ajan'
On May 1, Raj Thackeray was seen trying to incite people in Aurangabad. He had said that if the loudspeakers are not removed from the mosques by May 3, then Hanuman Chalisa should be played outside the mosques from May 4. He said, 'I appeal to all Hindus… if you hear azaan on loudspeaker, then play Hanuman Chalisa on loudspeaker at such places! Only by doing this will these people realize the hindrance caused by loudspeakers.

Maharashtra Police's strictness on Raj Thackeray
It is worth noting that Raj Thackeray's statement on loudspeaker in Aurangabad can also create trouble for him. Following his statement, Maharashtra Police has registered a case against MNS supremo Raj Thackeray and the organizers of the rally. Apart from several sections of the Indian Penal Code (IPC), a case has also been registered against Raj Thackeray under section 153. Thackeray is accused of deliberately trying to incite people with the intention of inciting riots. A notice has also been sent to Raj Thackeray and other MNS leaders under Section 149 of the Code of Criminal Procedure (Cr.PC).
CM Uddhav on loudspeaker controversy
Let us inform that in view of the fear of unrest in Maharashtra, Chief Minister Uddhav Thackeray has reviewed the law and order situation with Home Minister Dilip Walse Patil and top police officers of the state. According to media reports, after this meeting, Maharashtra Director General of Police (DGP) Rajnish Seth has said that the state police is capable of maintaining law and order. He said that the teams of Maharashtra State Reserve Police Force and Home Guard are on alert. Uddhav Thackeray has directed the police to adopt all methods to maintain law and order in the wake of loudspeaker controversy and not to wait for any instructions.
Loudspeaker row: Maharashtra CM directs police 'not to wait for anyone's permission' to maintain law and order

Read @ANI Story | https://t.co/KGftkXA4J4#UddhavThackeray #Maharashtra #LoudspeakerRow #RajThackeray pic.twitter.com/vtQ6ArI1Lo

— ANI Digital (@ani_digital) May 3, 2022
'BJP betrayed Balasaheb'
It is worth noting that in Maharashtra, there has been rhetoric in the past about the use of loudspeakers in religious places. The ruling Shiv Sena has targeted the BJP for being accused of abandoning Hindutva and Bal Thackeray's ideology. Party supremo and Chief Minister Uddhav Thackeray had said that his father was innocent, which BJP took advantage of, he was cheated. Uddhav said that he has seen how BJP betrayed Balasaheb from time to time, so they are dealing with him tactfully. He said that under the guise of Hindutva, the game of BJP cannot be ignored. CM Uddhav has said about Raj Thackeray without naming that he does not pay attention to the new players of Hindutva.