India
oi-Mukesh Pandey
New Delhi, April 18.
Maharashtra cabinet minister and NCP leader Nawab Malik, who is arrested in connection with the purchase of properties of Dawood Ibrahim and money laundering, has once again received a setback. The special court extended Malik's custody once again. Now he will have to remain in jail in judicial custody till April 22.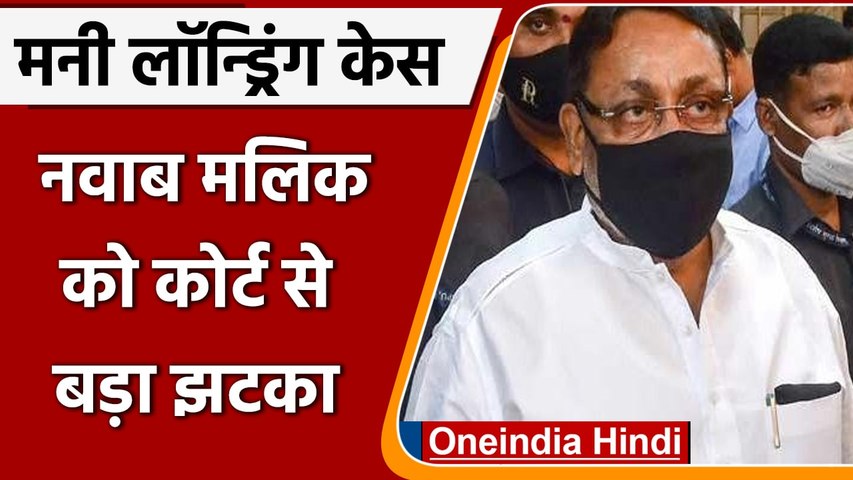 Money Laundering Case: Nawab Malik's judicial custody extended till April 22. oneindia hindi
In the Mumbai money laundering case, the problems of Cabinet Minister and ACP leader Nawab Malik in the Government of Maharashtra are not decreasing. The court has again extended his judicial custody. The special court hearing the case has now issued an order to extend Maliki's judicial custody till April 22.
Cabinet ministers are accused in 100 crore money laundering case
The Enforcement Directorate (ED) is probing the Rs 100 crore Mumbai money laundering case. On the demand of ED, the court once again gave the decision to increase Maliki's judicial custody. Earlier, when Malik appeared in the special court on April 4, the court had extended his judicial custody till April 18.
wires connected to daud
National Communist Party (NCP) leader and cabinet minister of Maharashtra is an accused in the Mumbai Money Laundering Case of Rs 100 crore. Malik is accused of being associated with the real estate business of underworld don Dawood Ibrahim. After his arrest in the case, the court sent him to judicial custody. Nawab Malik is accused of being involved in a deal related to Dawood Ibrahim's land. Malik's story was exposed after Malik's arrest. The ED told the court how Nawab Malik had allegedly grabbed a plot worth Rs 300 crore from Munira Plumber. In this, the company that was made the medium is owned by the cabinet minister Malik's family. The ED had said to run this company with the help of fugitive don Dawood Ibrahim's sister Haseena Parkar and other members of the D gang.
Action was taken on Malik on 23 February
The ED team had raided Malik's house on February 23. After which the ED took them with them. He was arrested after about 6 hours of interrogation. ED has registered a money laundering case against Nawab Malik in connection with the property of Dawood Ibrahim. Malik, 62, was arrested by the ED in February-end. He is currently in jail in judicial custody.
Story first published: Monday, April 18, 2022, 15:45 [IST]