Punjab: Even after the removal of Health Minister Vijay Singla, AAP on the target of the opposition, Mann government's concern increased
- Posted by One India, last updated on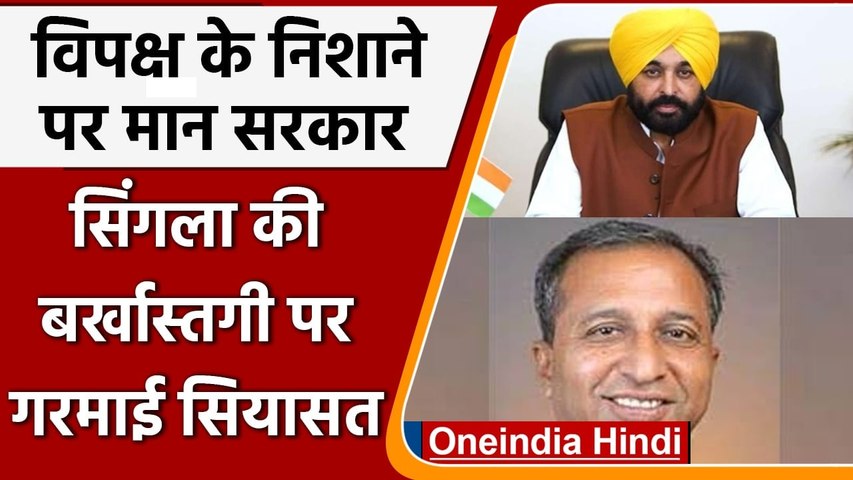 Punjab's Mann Govt in trouble, politics heats up over removal of Health Minister Vijay Singla. oneindia hindi
Corruption on a large scale in the corridors of power – Vading
Punjab Congress President Amarinder Singh Raja Vading said that this step has been taken by the Aam Aadmi Party out of fear of the people and to avoid slander in the media. Corruption has spread on a large scale in the corridors of power in just two months. The allegations of the Congress regarding the rampant corruption in the Punjab government have proved to be true. In such a situation, our side has not been proved by any other person, but Chief Minister Bhagwant Mann himself has proved the corruption of one of his ministers. He said that this is just the beginning and there are still others in the queue.
Targeting Chief Minister Bhagwant Mann
Amarinder Singh Raja Vading said that we hope that Chief Minister Bhagwant Mann will not stop only till Singla, but will take action against every such person. Targeting Chief Minister Bhagwant Mann, Raja Vading said that the real test of Mann has started now. You cannot leave others free by pretending to act on just one person, because Singla is not the only suspect in this bunch, there are others too.
Delhi CM Kejriwal also took a jibe
The state Congress president also took a jibe at Delhi Chief Minister Arvind Kejriwal, who had been claiming for the past one month that Bhagwant Mann had ended corruption in 10 days, even though he himself claimed that one of his ministers was involved in corruption. In such a situation, there is no need to mention nomination for Rajya Sabha by your party. He said that the manner in which the Chief Minister announced the removal of the minister on the charge of demanding bribe shows that he wants to save his skin. To which Vading questioned the Chief Minister as to how many more people were in the queue, as Singla was not the only one involved in tainted transactions like transfers and appointments.