badminton
oi – Ankur Singh
New Delhi, 17th July. Indian shuttler PV Sindhu on Sunday clinched the Singapore Open Super 500 title by defeating Wang Yi of Chinese 21-9, 11-21, 21-15 in the women's singles final on Sunday. This is Sindhu's first Super 500 title as well as her third title of the year. After a brilliant start in the first set, Sindhu stumbled in the second set. But in the third set, he made a spectacular comeback and won the title. Earlier on Saturday, she defeated lower-ranked Saina Kawakami of Japan in the semi-finals to reach the final.
Also read- In the style of Dhoni, the veteran Bangladeshi player announced his retirement from T20I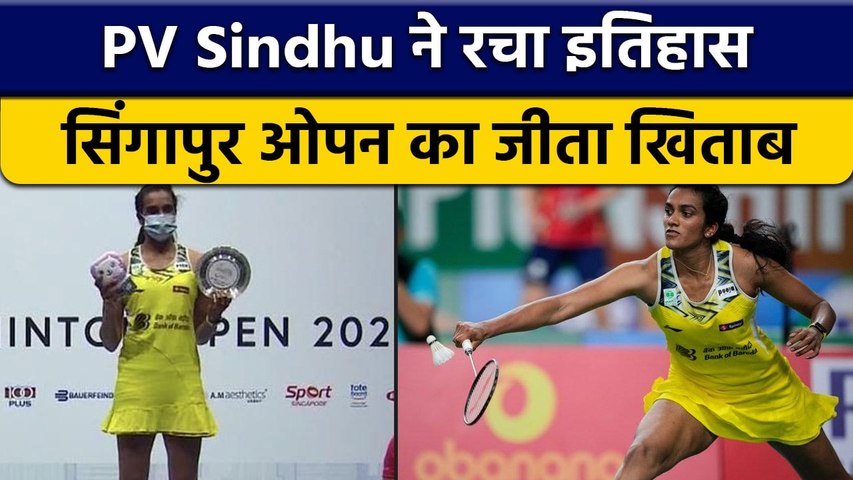 PV Sindhu's amazing, defeated the Chinese player in the final of Singapore Open. OneIndia Hindi *Sports
Newest First Oldest First
The final lasted for a total of 58 minutes. For information, let us tell you that Sindhu is the only Indian woman shuttler after Saina Nehwal to win the Gold Maiden at the Singapore Open.
Congratulations.. PV Sindhu defeated Wan Ji Yi 21-9, 11-21, 21-15 to win the Singapore Open Super 500 title. This is his third title this year.
15-19! Sindhu again hits long and the shuttle flies over the court. He got one point.
19-14! Sindhu gets another point after a brilliant effort from Van.
18-14! Sindhu gets a point and breaks the serve. He then played an aggressive smash and got another point.
13-16! Sindhu played outside the court and gave her serve and lost a point.
12-15! Van played a brilliant drop shot and got a point after a long rally.
15-11! A great rally and another good follow-up from Sindhu as she wins a point.
14-11! Sindhu got two points.
12-11! First point for Sindhu in the second half. Wang has also made a good comeback.
9-11! After the change of ends, he got 2 points back-to-back. Sindhu's advantage of 5 points has now slipped to two.
11-6! Sindhu made a strong comeback in the decider and half stage. Sindhu has taken a lead of 5 points.
Sindhu leads 8-6 in this third game, which is proving to be physically more difficult than in the previous two games.
6-5! Longest rally of the match so far (26) and Sindhu finally managed to clinch the win by earning a point.
5-5! Wang Yi plays a brilliant cross-court smash and the score is level.
5-4! Sindhu has taken a 1 point lead over her opponent in the final game. Sindhu is seen in a very aggressive style in this game.
Game 3! 2-3 Sindhu started with one point, but she has also given 3 points to the Asian champion.
21-11! Wan Ji Yi made a strong comeback to win the second game. Till now the final is going on 1-1 and now the last game will be played. Sindhu won the first game 21-9 but fell far behind in the second game.
19-10! They are just two points away from winning this game.
17-8! Wang Yi is leading in her second game against PV Sindhu and looks like we are ready for a decisive third game. Sindhu has made a lot of unexpected mistakes in this game.
15-5! Wan Ji Yi is in a wonderful rhythm at the moment. She seems to have learned from her mistakes in the first game and has taken her game to the next level in the second game.
12-4! Wan Ji Yi showed her strength and agility and got her first point in the second half. Sindhu is still 8 points behind.
11-3! He dominates in the second game. He has so far taken a massive 8 point lead in the half-leg against the third seeded Indian shuttler.
2-6! Has scored some points with his cross-court smashes.
6-0! In the second game, she has not lost a single point and Sindhu is yet to open her account. A strong display of intent from the Japanese shuttler.
Game 2 has started… Wan Ji Yi started with the first three points. Will she be able to return?
21-9! PV Sindhu dominates Wan Ji Yi to win the first game. The pressure of the big final certainly affected the Japanese in the first game.
The scoreline is now at 19-9. Sindhu is only 2 points away from taking the lead in this game.
16-6! Sindhu is leading in the first game and has put all the pressure on her.
Sindhu leads 11-2 in the halfway stage. Sindhu took a crucial 9-point lead in this game.
READ MORE