Business
oi-Bavita Jha
New Delhi. Amidst the shock of inflation, the Reserve Bank of India has increased the repo rate by 40 basis points. After the hike in the repo rate by the RBI, the stock market went into a tizzy. The biggest loss has been seen in banking and IT. RBI Governor Shaktikanta Das held a press conference at 2 pm and decided to increase the repo rate by 0.40 percent without prior announcement. After the announcement of RBI, now the repo rate has increased from 4 percent to 4.04 percent. The stock market turned red due to this unexpected announcement of RBI.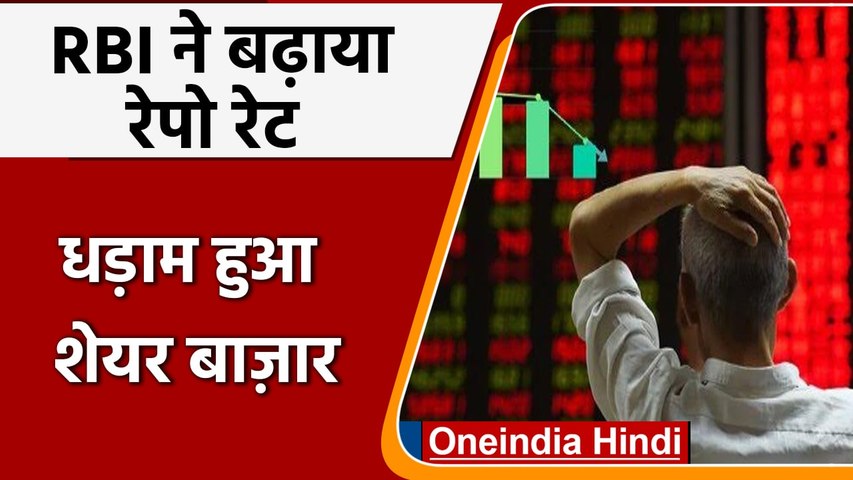 RBI Interest Rate Hike: Repo rate hiked, there will be a strong shock of inflation. oneindia hindi
The BSE Sensex fell up to 1011 points after the RBI Governor announced a 0.4 percent hike in the repo rate today. On the other hand, Nifty has broken 339 points. By 2.20 pm, there was a big fall in the stock market. The Sensex fell 927.76 to 56,048.23. While the Nifty fell by 283.05 points to reach 16,786.05 points down. Most of the BSE shares hit the red mark. Big stocks like Bajaj Finserv, Titan, Bajaj Finance, Reliance have fallen over 3 per cent. Out of 30 stocks of BSE, only 5 shares are on the green mark.
Let us tell you that the stock market had a strong start on Wednesday. After the market closed on Tuesday, today opened with a lot of momentum. The Sensex opened with a gain of 126 points, while the Nifty rose 20 points to open at 17,089.90 points, but this rise could not last long. The market started falling due to the fear of the announcement of the repo rate.