What is Nitish's planning behind cutting RCP Singh's ticket? This 'stern gesture' given to BJP
- Posted by One India, last updated on
Nitish sent Singh to Rajya Sabha twice, also made the party's national president
Former IAS officer RCP Singh came close to Nitish Kumar while he was the Railway Minister. With his joining JDU, RCP Singh's stature grew rapidly. Nitish Kumar not only sent ACP Singh to Rajya Sabha twice, but also made him the national president of the party. After this, when the question of making a minister in the central government led by Narendra Modi came up, Singh was given a chance.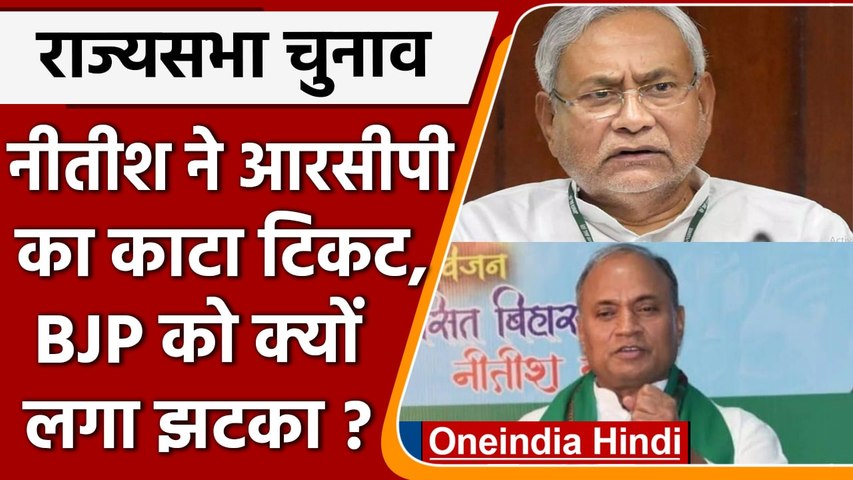 Rajya Sabha Election: Nitish Kumar cut RCP Singh's ticket, why BJP got a setback. oneindia hindi
RCP Singh made his own name for the post of minister in the center
ACP Singh has been accused of helicopter landing in Bihar politics. Party workers have accused him many times that he kept trying to run the party like bureaucrats. In such a situation, Nitish Kumar removed Singh from the post. As JDU President, when it came to getting a ministerial post at the Center, ACP Singh put himself in the forefront.
Nitish Kumar gave a clear message of despair
After this there was no public congratulatory message from Nitish Kumar. Nor did he attend the swearing-in ceremony of his colleague. Party insiders saw this as a clear message of Nitish Kumar's dismay to RCP Singh. Singh was also accused of getting the picture of Chief Minister Nitish Kumar shortened in the poster banner to welcome him on his arrival in Patna.
'Won't tolerate humiliation'
The JD(U)'s decision to remove RCP Singh is also being seen as a message to the BJP. Both the partners who have been together since 1995 after a short break except in 2014 are going through a rough phase. Nitish Kumar has stressed his commitment to the caste census, leaving the BJP in deep unease. It sees the caste census as a divisive tool, which can divide its combined Hindutva vote on the basis of caste. Meanwhile, the JD(U) has clarified that it will be difficult to keep the two allies together if the BJP re-nominates RCP Singh from elsewhere to retain its position in the Union Cabinet. A top JD(U) MP said, "We have been tolerant, but we will not tolerate insult to anyone."