Gujarat
oi-Anjan Kumar Chaudhary
Ahmedabad, May 12: Gujarat Congress working president Hardik Patel has praised the three family members of the party high command. But, in this praise, especially against former president Rahul Gandhi, he has left no stone unturned to vent anger. Patel seems annoyed that he is being made the party's mask in the state, but his responsibility is not being fixed. Because of this, there has been speculation many times in the past that he has become disillusioned with the Congress so soon. Now the kind of things he has said, especially about Rahul Gandhi, it is clear that due to some reason or the other, a wall has definitely stood between the trust from both the sides.
Speculation of joining BJP dismissed
Gujarat Congress working president Hardik Patel in an interview to NDTV on Thursday rubbished speculations of joining BJP. He has said that rumor is part of politics. He said that whatever his grievances are, they are internal affairs of the party and expressed hope that in view of the assembly elections, all these will be rectified soon. He named Rahul Gandhi, Priyanka Gandhi Vadra and Sonia Gandhi and said that he had no issues with them and also claimed that the party assigns responsibilities without partiality.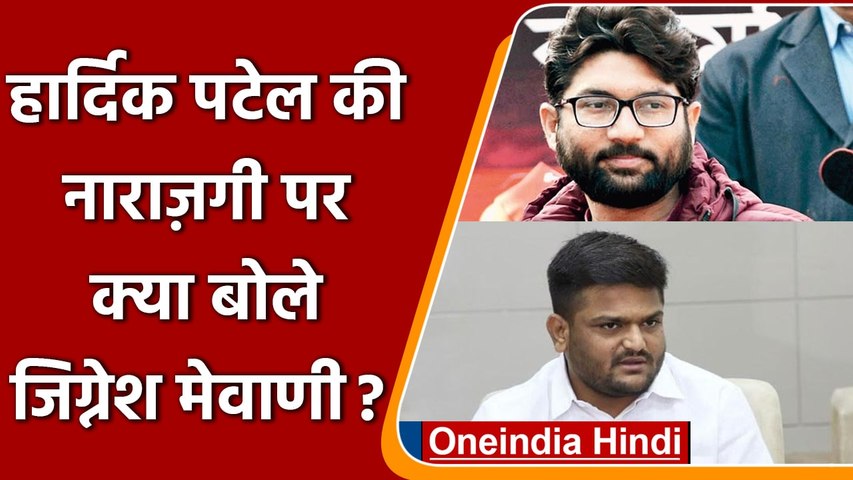 gujrat: Jignesh mevani said hardik patel is my friend, brother, I will celebrate. oneindia hindi
'…..because we don't come from political families'
Hardik said, 'We are a different kind of politician, because we do not come from political families. We have worked very hard and made our mark in Gujarat. We don't want to put pressure on the leadership before elections to get profitable. Not only this, he said that it is necessary that we should be given some clear responsibility. He said that it has been two years since he joined the party and people have high hopes and only 6 months are left for the assembly elections too. Advocating clarity for his leadership, he said that 'I have gone among the people and tried to understand their hopes and aspirations'. I have traveled to 8,000 villages.
'Why can't you fix my responsibilities?'
Expressing his importance in the party, he said that for the first time after 1990, the Congress got 80 seats in the state in 2017. He said that at a time when not many people came to the Congress, he came and united 'lakhs of Patel voters', thereby emerging as a strong opposition. Taking out his anger on his position, he said, 'When you have made me working president, you should also clarify my responsibility, as you have done in all other states. It's been two years, why can't you fix my responsibilities? He has not organized even a single big press conference with me in the state so far.
'They'll talk to me when they get time'
He said that 15 days ago, Rahul Gandhi had given a message asking what was the matter and he had also told him openly. But, there was no response from the High Command. Hardik said, "He (Rahul) was in Gujarat recently, but I think he was very busy. He will talk to me when he gets time. When asked why Rahul did not meet him when he came to Gujarat. To this, he defended him saying that he had to hold meetings with several community leaders in 5 to 6 hours. He said, 'I do not have any godfather in Delhi, who can help me, I have to work on my own.'