Is Uddhav stuck on loudspeaker?
After Maharashtra's Independent MP Navneet Rana and her husband, Independent MLA Ravi Rana, announced to recite Hanuman Chalisa outside 'Matoshree', the private residence of Maharashtra Chief Minister Uddhav Thackeray in Mumbai, they had to go to jail and face charges like 'sedition' against them. Serious currents were used. But, CM Thackeray's cousin Raj Thackeray has repeatedly given an ultimatum to the Maha Vikas Aghadi government to stop the sound of loudspeakers from mosques, even then an FIR has been lodged against him in light sections. This is the reason why there is now speculation in Maharashtra that Uddhav is badly trapped in Raj Thackeray's politics. It is being claimed that Shiv Sena's grassroots worker is sympathizing with Raj Thackeray on the issue of loudspeakers.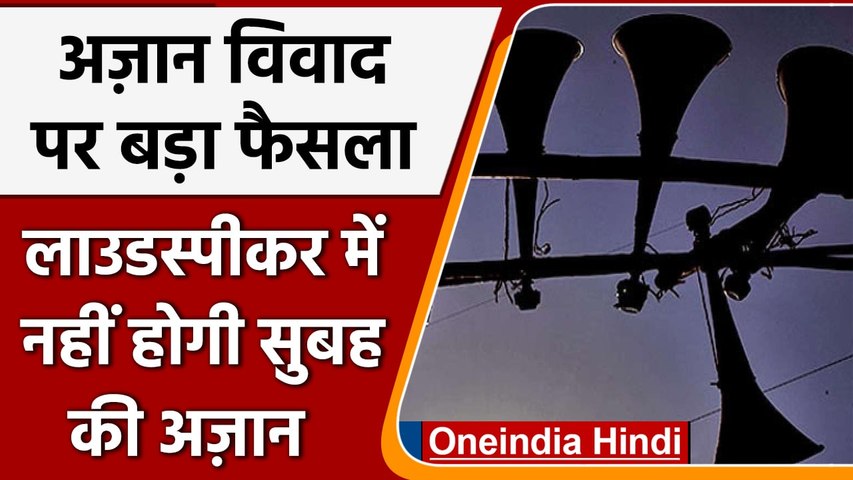 Loudspeaker Row: Morning Azan without loudspeaker in Maharashtra | oneindia hindi
Why hesitation to take strict action against Raj Thackeray?
The state machinery is on full alert in view of Maharashtra Navnirman Sena chief Raj Thackeray's threat to recite Hanuman Chalisa on loudspeakers outside mosques in case the loudspeaker's sound does not stop. State Police Chief Rajnish Seth has given strict instructions to the employees to take action to stop any kind of illegal activity. But, the sections under which FIRs have been registered against Raj Thackeray after his speech in Aurangabad are pointing to the situation inside Shiv Sena and its supremo Chief Minister Uddhav Thackeray.
Opponents are raising questions on the intention of the Uddhav government
Cases have been registered against Raj Thackeray in Aurangabad, Maharashtra under sections 116, 117 and 143 of IPC. However, opponents allege that it is too mild, with allegations such as abetment of crime through public and unlawful assembly. Asaduddin Owaisi's party AIMIM's Aurangabad MP Imtiaz Jameel has said, 'Weird that Navneet Rana and her husband Ravi Rana were arrested and booked under sedition for planning to recite Hanuman Chalisa, while Raj But these sections have been imposed, while he is threatening violence. ,
We should raise this issue instead of Raj- Shiv Sainik
The issue of removing loudspeakers from mosques and preventing Muslims from reading Nawaz on the streets was actually raised by Shiv Sena founder Bal Thackeray himself earlier and Shiv Sena's grassroots workers have no reason to disagree with Raj Thackeray on this issue. Can't understand the reason. Significantly, Raj Thackeray has also shared a similar video of his late uncle on social media on Wednesday. This is the reason why the MVA government, especially the Shiv Sena, is taking a whirlwind step in this matter. Quoting a former Mumbai branch head, the Economic Times wrote, 'How can we disagree? This is what Balasaheb always said; We should raise this issue instead of Raj.'
'99% Shiv Sainik' with Raj Thackeray!
Some office-bearers of Shiv Sena claim that they have 99% in support of the stand taken by Raj Thackeray. In the beginning, Raj Thackeray used to be the right hand of Bal Thackeray. The Raj of Bal Thackeray's politics was initially considered a natural heir. It is a different matter that at the time of coronation in the party, he trusted son Uddhav. Margined after the BJP's rise in the state, Raj has for the first time come across an issue that has been the cornerstone of Shiv Sena's politics and in which it was his uncle who made him proficient. Therefore, the challenge of the house for Chief Minister Uddhav Thackeray has been no less than the opposition BJP.